The Chronicles of Deosai
Blog Post 48
January16, 2022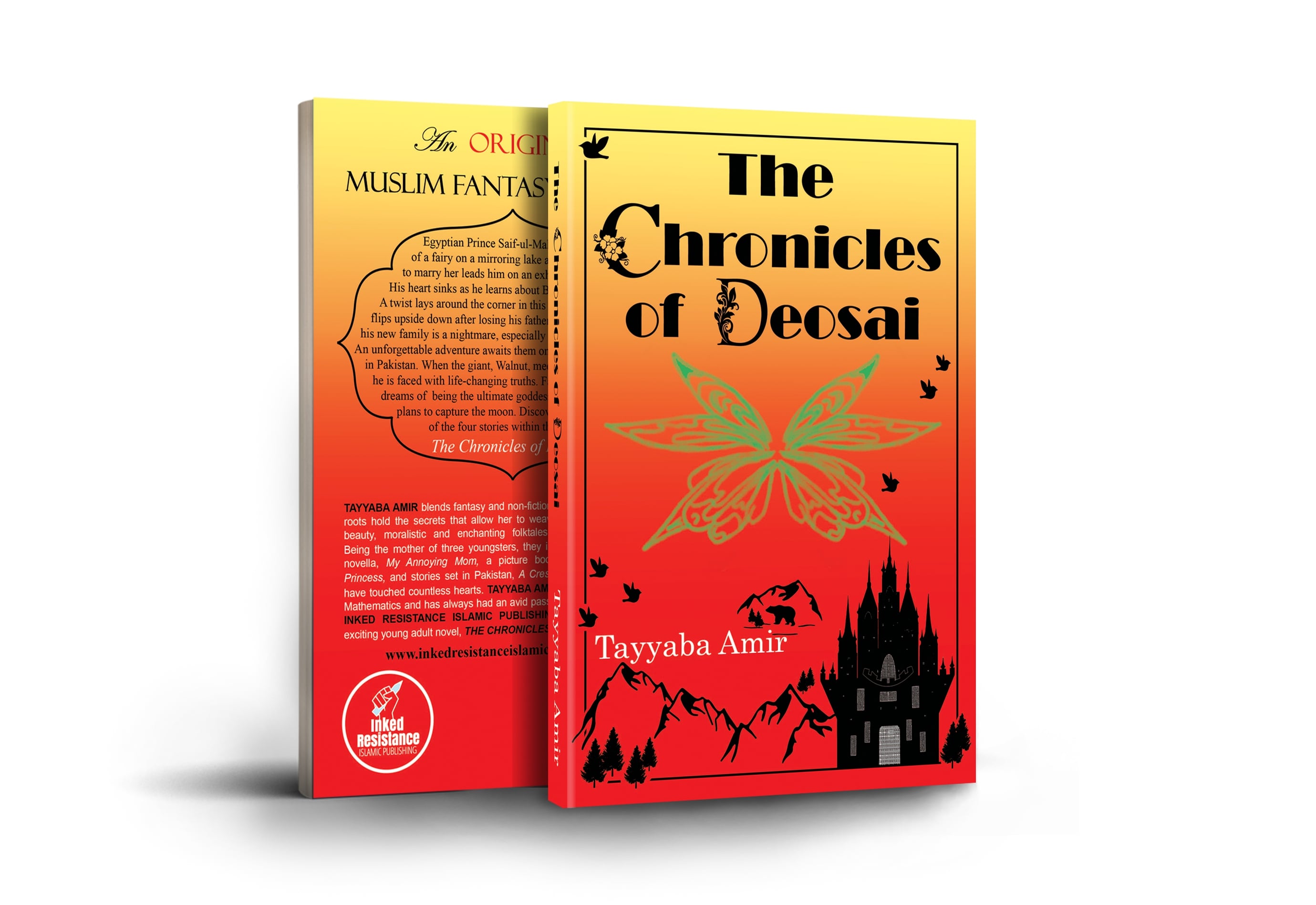 Our Brand-New Title
Is Here Now, Al-Hamdulillah! Right on Time for 2022!
Inked Resistance Islamic Publishing is so pleased to have worked with Sister Tayyaba Amir to actualize her dream of seeing her fantasy folktale in print. When we read her original manuscript in 2018, it blew us away and we knew it was a story unlike any we had heard before. And so we worked diligently with Sister Tayyaba from September 2020 through all of 2021 to revise, edit and tidy up her story for publication.
The Chronicles of Deosai utilizes the folktale of Prince Saif-ul-Malook and the fairy Badr Jamal as the backdrop to Sister Tayyaba's original Muslim real-life fantasy adventure novel. Stepbrothers Usama and Ali and Ali's cousins Sarah and Zohaib, along with their sets of parents, are in for a thrilling, death-defying journey with giants, a troll and fairies in Deosai in Pakistan.
The story of the Egyptian Prince Saif-ul-Malook and his love for the fairy Badr Jamal was expertly and lovingly presented in a rendition by Mian Muhammad Bakhsh, the mystic poet of the nineteenth century. Every Pakistani knows the story and now Sister Tayyaba has made it available to English readers within The Chronicles of Deosai. But her love of Pakistan's natural beautiful wildness, especially in the mountain ranges and lakes of Skardu, and specifically in Deosai, literally the Land of the Giants, has resulted in the exciting and dangerous expedition there.
It's An Original Muslim Fantasy Folktale!
The writer, Sister Tayyaba Amir, was born and resides in Pakistan. Her three children, her Pakistan roots and her love of blending fantasy and non-fiction in her writings and artwork have led her to conjure up rich, moralistic and enchanting stories for children and young adults. The book cover of The Chronicles of Deosai was beautifully designed by Sister Tayyaba also. Her debut novella, My Annoying Mom, a picture book, Marium Wants to be a Princess, and stories set in Pakistan, A Crescent and a Star, have touched countless hearts. As well, Sister Tayyaba holds a master's degree in Mathematics and has always had an avid passion for learning and teaching.
Sister Tayyaba tells of her inspiration for The Chronicles of Deosai when she travelled to Skardu in July 2017. There's a picture of where her dream happened. It was taken by her "brother Najam A. Anjum on July 20, 2017 in the icy water of mesmerizing Mantoka Waterfall in Skardu. Where people were reluctant to put just a finger in the stream, I dipped my feet in the crystal clear water and it soothed my soul to the core." She relates, "'What's the point of visiting a waterfall or a lake if my feet remain untouched by water' is the only statement I always give to the people around me."
She continues, "My visit to Skardu in the year 2017 was a life-changing experience. On those days, I was working on my first children's book 'My Annoying Mom' and you could say that the author inside me was at its peak in those days. During my visit to Deosai, our guide told us about the legends of giants. According to him, some creatures like Big Foot existed almost hundred years ago in the plains of Deosai. They used to hunt cattle of villagers, mostly. This piece of information was enough to hit the brakes of my idea hunting process because I had found one. But unlike anyone else, I didn't doubt the story. I am the person who strongly believe in Jinn, fairies, ogres and trolls, so why shouldn't I not believe in this.
"Incredible ideas rushed through my mind and I started to paint the sceneries and experiences of Deosai with words on the canvas of my tab's screen. [The book cover is an example of what she was painting.] Though the first draft was not as interesting as the final book, still it was something unique and loveable.
"Finally, today [January 5, 2022], my book 'The Chronicles of Deosai' is released internationally. Published by Inked Resistance Islamic Publishing, people outside Pakistan can get this exceptional book on the following link. [See below] In Pakistan, it will [be] available soon in sha Allah."
Inked Resistance Islamic Publishing was first contacted by Sister Tayyaba on July 22, 2018 regarding her book, My Annoying Mom. Unfortunately, we are not in the business of publishing children's books, only young and new adult fiction. But, three days later, she said she was working on a middle-grade Islamic fiction story. On November 15, 2018, she wrote that she would complete it very soon, inshallah. Sister Tayyaba explained three days later, "Pakistan is a beautiful country and after visiting its tourist areas, its beauty and the legendary tales associated with its amazing places, compelled me to write an adventure about this place. Deosai is the second largest plateau in the world. The name is given to this place due to the existence of giants in this area in past. Deosai means the land of giants." Then we sent her a lot of praise and encouragement and so many questions regarding the story and she replied:
"Assalamo alikum sister Laila
I pray the best of health and imaan for you.
I have gone through your email. Its such a wonderful help that i can't thank you enough for your this effort.
Most answers of your questions are in the story, and some questions led me to solve my problems that i had in the story.
I will try to reply you as soon as possible in detail. This email is just a thanks note. Jazak Allah sister.
May Allah shower His blessings always upon you.

"
In October 2019, Sister Tayyaba published her first book, My Annoying Mom. Then she sent her manuscript for The Chronicles of Deosai. It required a lot of revision and editing and we requested that she get someone to help her with that. By September 2020, the manuscript was not in much better shape, but we agreed to start working with her on it while encouraging her to get someone to edit and proofread the manuscript in the meantime as it was taking such a lot of time to work on. Unfortunately after several months, Sister Tayyaba was unable to obtain anyone in Pakistan to help her really. She tried to do it herself and then sent her new draft copy on March 2, 2021. While it wasn't in much better shape, and we had to discuss that with much detail and some heartache, because we had previously decided the story was fantastic, and we never wavered from that, we had to admit the manuscript was worth the time and effort needed to make it publishable. And so we started working diligently and exclusively side by side over email exchanges with Sister Tayyaba to twist and mold that story into the novel it is today, Al-Hamduillah. With only several other hiccups, emotions and clearups, Inked Resistance Islamic Publishing got the book off to the printers in December 2021 and finally it was in our hands on January 4, 2022. Al-Hamdulillah many times!
We can never thank Sister Tayyaba enough for all her hard work, understanding and devotion to sticking through it thick and thin. The lesson we learned, the both of us, is one all writers must learn. Writing is an art! And if you're writing in a second/third/etc. language, it's tougher for most, but possible, inshallah. Writing and publishing is a long process and it's not magic. But with Allah Suhanahu wa ta'ala's Help, all things are possible! Even during this worldwide viral upheaval! We're grateful The Chronicles of Deosai kept our minds off it for some of the time.
We really appreciate Sister Tayyaba Amir's words to us on January 4, 2022:
"Sister Laila, I don't have enough words to thank you. It is you who encouraged me and guided me thoroughly towards perfection... I am over the moon after having all the things ready to publish my dream book. Sister Laila, May Allah bless you in both the worlds. Your help and support fulfilled my dream... Jazak Allah khair for everything... Thanks again Sister Laila. Indeed, you are a blessing to the people around you. ​Lots of Love, respect and prayers.​ Wassalam, Tayyaba Amir"
The book is not meant to stay in bookstores and on shelves. It's a literary treasure wearing the garments of faith in The Creator, pure love, family connections, life-changing truths and courage to right the wrongs. The Chronicles of Deosai "is a great addition to the growing list of Islamic fiction for everyone, boys and girls, young men and women, even a 72-year-old," as a 72-year-old devoted reader in Toronto wrote. Thank you, Sister Tayyaba Amir! And may Allah bless you and your family immensely!
Don't miss out on getting your hands
on this four-stories-in-one page-turner
for the young adults in your life!
Sister Tayyaba Amir is on facebook @ https://www.facebook.com/tayyaba.akber
and her company Blissful Butterflies is @ https://www.facebook.com/AuthorTayyabaAmir
and The Chronicles of Deosai is @ https://www.facebook.com/The-Chronicles-of-Deosai-101117632467771
SHOP @
& SHOP
& SHOP